Our satisfied customers
Kevin & Lisa' Groves' Wedding. 27th April 2019
"Hi Jimmy, Just wanted to say a big thank you to you guys for performing at our wedding on Saturday. You were all amazing!!! And We want to do it all over again!!! Everyone thought you were really good and were asking how we found you!! You have been professional, but friendly throughout and the rapport you have as a band really shines through! We hope you all had enough to eat & enjoyed the night too. Can't thank you enough for making our wedding reception that extra bit special & we both wish you all well in the future!! Many thanks.Lisa & Kevin Groves"
Darrell Hardy, Holbeach FC Fundraiser. 30th March 2019
"High Rollers were brilliant, thank you. Everyone said what a good night it was and the music was incredible!"
Celia Tulett, Dinner Dance. 9th March 2019
"We all had a great evening on Friday and thank you so much for the entertainment – glad the sing off was the biggest so far – was lovely to see all ages on the dance floor enjoying the music."
Mike Gleason's 40th. 1st December 2018
"Thank you all for playing at Hubbies 40th party, another cracking performance from the band!! Would happily book the High Rollers for future events, love them!!"
Gemma & Carl Griffiths' Wedding. 17th November 2018
"Omg Jimmy! Thank you guys so much, we had an absolute blast! You guys rocked xxx"
Janette Fiona's 50th. 3rd November 2018
"Thank you Jimmy to you and your absolutely fantastic band. All my guests thought you were awesome!! Thanks again xx"
Greg Halls, EMC3 Agency. 17th October 2018
"The High Rollers were an absolute dream to work with and put on a great show for our client's evening! We will definitely be looking to book them for future events."
Georgina & Chris' Wedding. 29th September 2018

"High rollers made our evening special!! We had a sing off to Sweet Home Alabama and the girls won! Thank you for making the atmosphere we were all dancing all evening and wonderful memories! Can't recommend them enough! You made mine and Chris's wedding special"
Harry & Jenny's Wedding. 21st July 2018
"Hi James, Thank you so much for making a perfect day even more memorable. Everyone was raving about you all."
Catherine & Mark's Wedding. 9th June 2018
Extremely happy with the band. Great music, fantastic voices and amazing entertainment factor. Most importantly they sensed the vibe in the room and played to the crowd. So many great comments from guests and pretty much everybody was on the dance floor at some point in the evening. Highly recommend this band for wedding receptions.
Nikki & Austin Clark's Wedding. 27th October 2017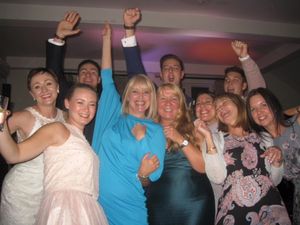 "Hiya. We are back from honeymoon and just wanted to say a massive thank you for the wonderful performance at our wedding - you were superb as always and made our day fabulous. Thank you Jimmy. Nikki and Austin x"
Amelia & Anthony's Wedding. 4th August 2017
"Hi Jimmy, Thanks so much for yesterday! You did an incredible job and really made the evening celebrations something to remember. "
Danni & Chris, Wedding. 22nd July 2017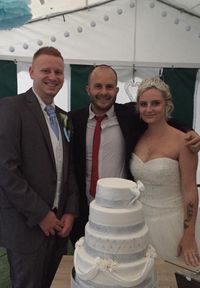 "Best around! Your kept our wedding reception pumping all night!"
Lauren & Jonathan, Wedding 7th July 2017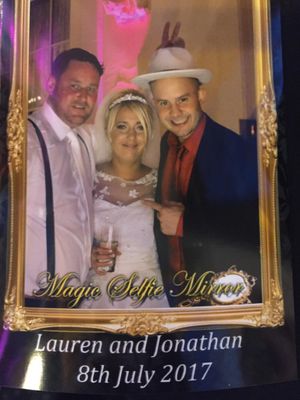 "Thanks Jim and the boys for an amazing night!"
Dan & Holly, Wedding. 1st July 2017.
"Just wanted to email and say thanks so much for an excellent night. Everyone commented on how good you were. Definitely made the party"
DST Output's Christmas Party, 2016
" Just wanted to thank you all for playing at our works Christmas Party. From the early stages of planning it was great to work with a band that are helpful and flexible and with the added benefit of being able to DJ saved costs while making the night easier as it was one less thing to coordinate. The night itself couldn't have been any better. You sounded great and looked the part, and the music was top notch and catered for the wide range of ages we had attending. From all of my colleagues feedback has been super positive and everyone said how great you guys were, and I have to agree, it really made it a night to remember. All the very vest for the future and look forward to working with you at future events."
Jeff Turner, Yamaha UK. NEC Motorcycle Show, November 2016
Thank you for an excellent performance at NEC last week. We received numerous comments from our dealers and other guests about how good the High Rollers were and from my side can I say that you really delivered a great sound and perfect choice of songs. Thanks from me and everyone at Yamaha UK for making the evening so memorable and for being so flexible at the end. Look forward to doing it all again at some point in the future. Please send my thanks to all the band and crew.
Mr & Mrs Oddy's Wedding. 16th June 2016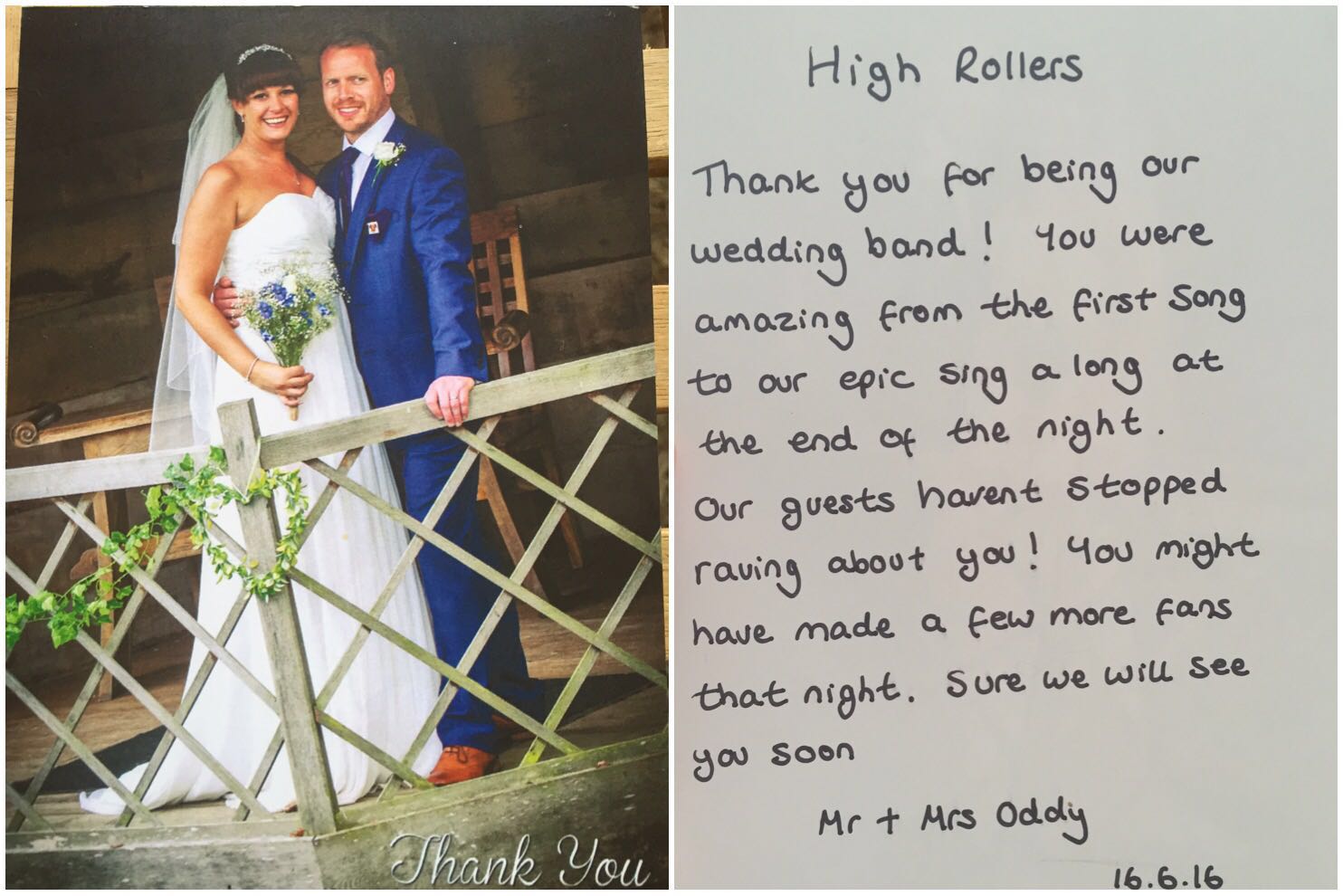 Julie & Neil, Wedding. 4th July 2015
"Hi Jimmy, Thank you so very much for Saturday night. Everyone has said what a brilliant band you are and how they had a great evening. Thank you again and good luck in everything you do. "
Fliss & Kamel's Wedding. 4th April 2015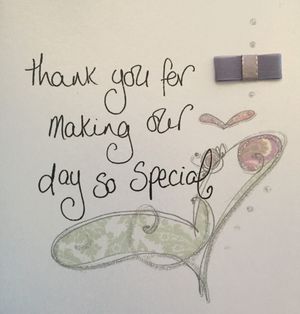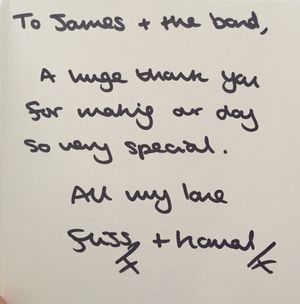 Clive Loveridge 60th. 19th April 2014 
"Hi jimmy, Just wanted to say a huge thank you for performing at my birthday party. 
Please pass my thanks onto all your band members and for making such a fun and memorable night. 
Thanks also for your DJ and disco,along with the band,kept everybody dancing until the early hours. 
See you again soon" 
Sue Kitchen 50th. 2nd March 2013 
"If you are in two minds about booking this band, don't spend any more time thinking about it, just book them! Jimmy, Pepp and the boys played at my 50th birthday party last Saturday and made the whole evening perfect. We had guests from their early 20s to approaching 80 years old and the dance floor was full all night, it was fantastic! All week friends have been contacting me to get hold of the band's details, they were an absolute hit with everyone! Book them while you can! I can't recommend them highly enough! Thank you chaps, you are fabulous." 
Carol Smile 60th. 6th October 2012 
"Hi Jimmy. Just wanted to say a big big thank you to The High Rollers for your brilliant performance on Saturday and helping to make my party such a success . I had a fantastic time and all my guests have not stopped talking about you and how much they enjoyed themselves. I saw people on the dance floor that NEVER dance. Let's hope you are still performing, and I am still around to celebrate my 70th, I would definitely book you again !!! Best wishes to you all and good luck for the future, it was a pleasure to meet you all." 
Rupert Paul's 50th. 15th September 2012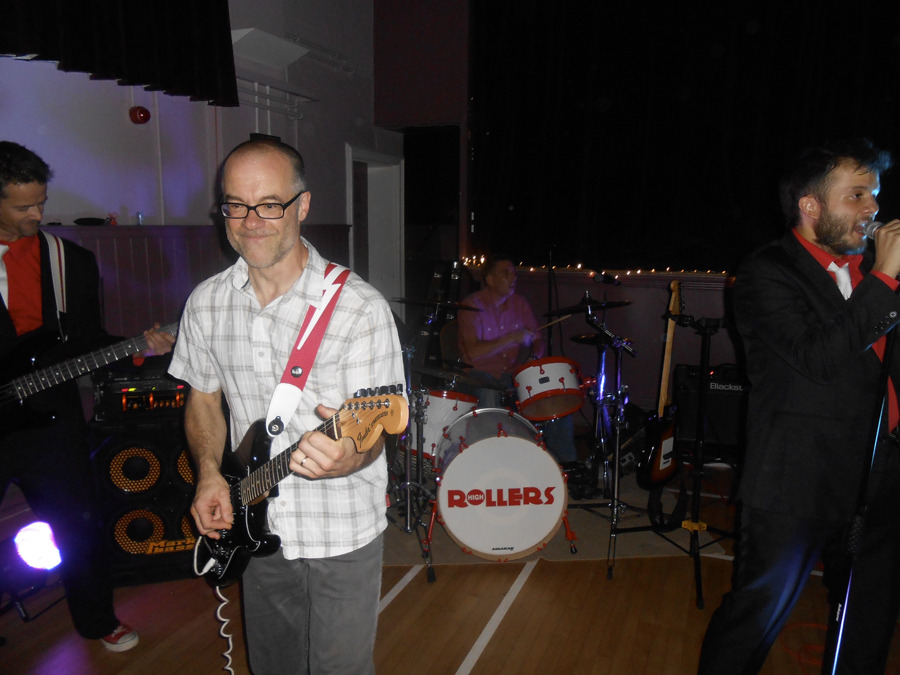 "Guys thank you, thank you thank you for making my birthday party a smash hit. I think you will agree your performance sent a jolt of raw electricity and excitement up the spine of every single person on the dance floor. You picked the right tunes, made us all laugh, worked the crowd beautifully and overran the second set by 45 minutes due to popular 
demand. A week later I've been showered with comments about how good the band was. You can't have a 50th twice, and I'll remember mine as a happy, high energy, rockin' good time." 
Rach & Dave Bennett's Wedding. 18th August 2012 
"Just wanted to say a massive Thank You for playing at our wedding in Louth on August 18th - you were amazing!!! 
You brought a fantastic energy to our wedding and were so friendly and approachable throughout the whole night. Offering to play our wedding dance on short notice was fantastic. 
Would def book you again and recommend you to anyone who wants a band that gets everyone up. 
Thanks and hope to see you at a gig sometime" 
The Priory (host to Rach & Dave Wedding above) 
"The High Rollers played for a wedding reception at the hotel we run in rural Lincolnshire. From the outset they were so amenable and true professionals. They were even able to play the first dance for the bride and groom (with only very short notice) and their playlist was amazing! We deal with many bands, DJs and artists but have to say that The High Rollers are the best we have encountered for musicability and sheer professionalism and we will unreservedly recommend them to potential bridal couples." 
Angie Rees for Pip and Susie Hodgkin Wedding. 7th July 2012 
"Dear Jimmy, A huge thank you to you and all the band for being such a great part of our wedding party last Saturday. You guys were tremendous! The music was fantastic and the band really engaged with everyone and kept the dance floor full and the energy level high throughout the whole evening and well into the morning! 
All of the thank you letters that we have received have mentioned how great the band was – we are truly grateful and want to pass on everyone's sincere thanks for being such an important part of Pip and Susie's wedding day. 
All the very best for the future" 
Kelly Down. Birthday Party, Milton Kynes. 16th June 2012 
"The High Rollers turned my birthday party into an amazing birthday party. They filled the dance floor from the first song. My friends haven't stopped talking about them. They made my party one I'll never forget!" 
Jane Hill. Bauer Automotive Christmas Party, Peterborough. December 2011 
"Just wanted to say a huge thank you for last night. The feedback I'm hearing this morning is that everyone really enjoyed the music you played and it certainly seemed to get a lot of people on the dance floor." 
Elsie Workman. Birthday Party, Redding. October 2011 
"You guys were fantastic, thank you so much for playing my party, you really made my night." 
Chris. The Boro Bar, Peterborough. October 2011 
"One of the best bands around and we will definitley be booking a few more gigs with them." 
Deborah and Howard Jones. 20th Wedding Anniversary, Cambridge. September 2011 
"We would like to thank the High Rollers for their exceptional performance at our wedding anniversary. From start to finish the dancefloor was full, and everyone commented on how great you were. Very best wishes for the future and hopefully we will catch you at a gig sometime." 
Richard Harrison. Wedding, Godmanchester. September 2011 
"Dear Jimmy and the band, 
a huge thank you for playing at our wedding, everybody commented on how good the band was, you really made our night special, best of luck for the future, hopefully see you soon. 
Best Wishes 
Rich" 
Dick & Liz Tinley. Wedding anniversary, Eltisley. September 2011 
"I just wanted to drop you a line to say thank you so much for putting on an amazing performance at our party on Saturday, we had so many people asking about you and saying what a great band! It was such good fun! We wish you the every success for the future. Best Wishes." 
Mick and Janet Mckenzie. Wedding. Peterborough August 2011 
"You guys were simple fantastic, thank you so much for being a part of our big day. We have passed on your details to lots of our friends." 
Samantha Nevik. 30th Birthday Party, Kent. July 2011 
"To James and the guys, a huge thank you for your performance at my birthday party, everybody was dancing from your very first song! I had a great night and a great birthday and you played a big part in that, thank you again. See you soon. 
Sam x" 
Becky Thornton. 30th birthday day, York. July 2011 
"Thank you all so much for performing at my party. You made a fabulous night even more special and everyone really, really enjoyed themselves." 
Scott & Emma. Wedding, Whittlesey. February 2011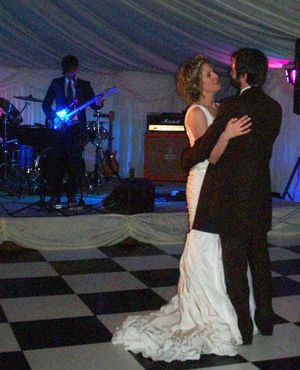 "A big thank you to James and the High Rollers for the music, both solo (1st dance was perfect) & with the band. It really made our wedding just the way we wanted it - a big party!! Love from Scott & Emma." 
Sean & Rose Downes. Wedding, Huntingdon. March 2010 
"Very professional and polished act, you guys really made are evening."